Stadiums
The Juventus Stadium, situated in Strada Comunale di Alessano 131, was opened in September 2011.
This stadium, completely renovated, is surrounded by a shopping centre called Area 12.
During the week, the stadium organizes guided tours for people who want to visit it.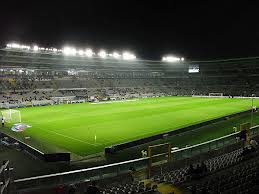 The Olimpic Stadium of Turin, easily reachable by public transportation, is located in Corso Sebastopoli, in the Santa Rita neighbourhood, south of the city and about 7 kilometres from the city centre.
Fully restored in occasion of the Winter Olimpics in 2006, today it hosts internationally famous concerts: Bruce Springsteen in 2009, U2 in 2010, Giuseppe Verdi in 2011, Coldplay in 2012, Muse and Vasco Rossi in 2013.
The capacity of this stadium is 27.994 places against the 41.000 places of the Juventus Stadium.
Since the summer of 2011, the Olimpic Stadium only hosts Torino's soccer games, as the Juventus team now uses its new facility, the Juventus Stadium, that replaced the Delle Alpi Stadium.
In the link section of our site you can find the respective website addresses.